All notifications from public authorities gathered in one place
Download the GovApp and receive notifications from the authorities, such as a COVID test code or an order to quarantine.
What is GovApp?
The authorities are looking for faster and safer ways to inform you, at first about COVID issues. GovApp is a free mobile application that allows you to receive official messages from the authorities. All you need is your phone number. Your national registration number is not required.
GovApp replaces the current SMS notifications, which are short and not very user-friendly. GovApp ensures that the message actually comes from the authorities, hence reducing the risk of fraudulent SMSes (phishing).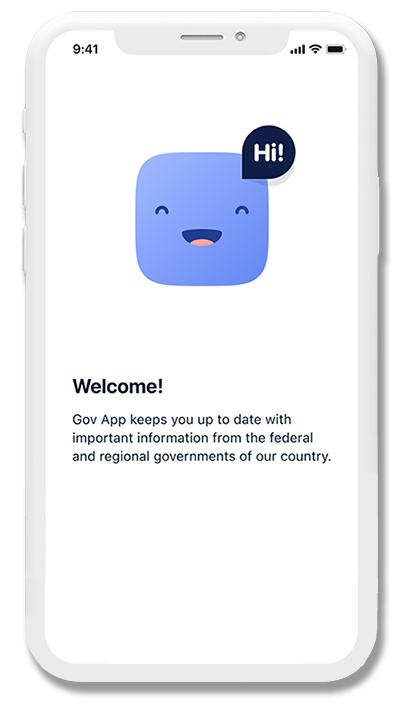 Benefits
Get important notifications from official sources. Protect yourself from fraudulent SMS messages.
Trusted Sender
Only authorities connected to GovApp can send you notifications. Hence you can be certain that it is a genuine official message. Protect yourself from phishing.
Everything in one place
Messages from the authorities are centralised in your GovApp. You no longer need to search for them among SMS from other senders.
User-friendly
Unlike short SMS notifications, GovApp messages can be longer. They are likely to be formatted and can contain more information, as well as a link, a button, a logo, a photo or a video.
Your privacy & your data
GovApp respects your privacy. Your personal data is secure. As with SMS, it only requires your mobile number.
One-time registration: Once you have installed GovApp, you can only add one mobile number. When registering, you are asked to give your consent to receive messages via notifications instead of SMS.
Your mobile number, not your identity: GovApp does not save your identity. If the authorities know your mobile number, it means that this number has been recorded elsewhere.
Confidentiality: To protect your privacy, the content of the messages is encrypted.
Why this App?
Your mobile phone is a valuable direct communication channel for the authorities. This has already been proven in the fight against COVID-19. As a citizen, you are informed instantly, so you can take action if needed.
GovApp replaces SMS communication, which is often too concise to be comprehensive, or too limited to include a word of explanation. Moreover, text messages are expensive for the sender, whose identity is also impossible to ascertain. Finally, with GovApp you contribute to significantly reducing the substantial costs generated by text messaging.